Fully pedal-powered phone charging stations


WATT'S UP ?
Pedal-powered phone charging station
GOT ENERGY TO SPARE ?
You're the only source of energy required !
FEEL LIKE A CHANGE ?
Fun and eco-responsible USB charging station
Our concept

Recharge your phone while you pedal
A pedal-powered permanent magnet generator instantly generates the power required to charge 3 phones

Get your messages across and engage your audience
These eye-catching charging stations increase your message's impact while conveying positive values. The customisable housing is designed to highlight your own messages.

Engage your community
A wireless sensor measures the quantity of energy generated. A bespoke, customisable mobile app enhances your audience's user experience.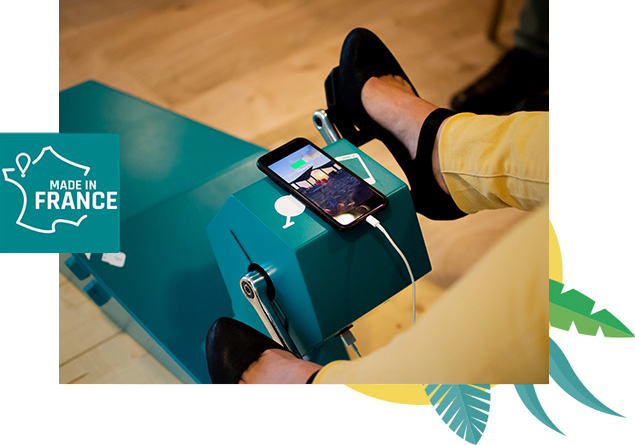 Phone charging stations
tailored to your business activity

Public spaces
Gardens, Parks, Skate-parks, Sports area, Fitness Trails, Eco-friendly neighbourhoods, Cycle trails...

Education
High schools, Colleges, Universities...

Corporate use
Staff break and rest areas, Coworking areas...

Tourism
Outdoor hospitality, Holiday camps and centres, etc.
Events Trade fairs
Corporate events, Festivals, Sporting events...

Stores and services
Shopping centres, Airports, Railway stations, Motorway rest stops or service areas...
In detail
USB connectors
Charge up to 3 phones at the same time
A wide colour selection
A wide colour selection
Outdoors, unsheltered
Rugged casings
Indoors
Quick to install and easy to move
The mobile application
Smart charging stations and customised challenges
The mobile application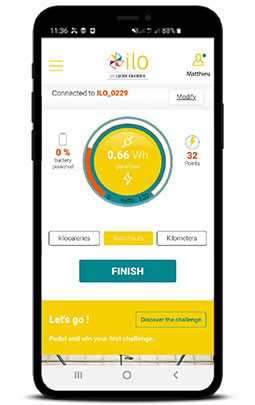 Engage your community
Meter the power generated and display on a mobile app
Discover the app